Welcome to our School Website
A huge welcome to all visitors of our school website!

I hope that it gives you an insight into the day to day life in our school, St John's Eglish, and our connected Apple Blossom Playgroup.

We, as a school, strive to help all children reach their full potential both academically and on a personal level. We enjoy seeing them develop as individuals as they move through the school being exposed to a range of high quality learning opportunities as well as extra-curricular activities.

St John's enjoys having a close link to our local Church and GAA club, and hope that we can continue to instil the great pride in this tight knit community that has been developed over many years.

I hope that you find our website informative and that it gives you a glimpse of the warm and welcoming environment our school offers. For any further information do not hesitate to contact us here at the school.

N. Morgan
Principal
Latest Photographs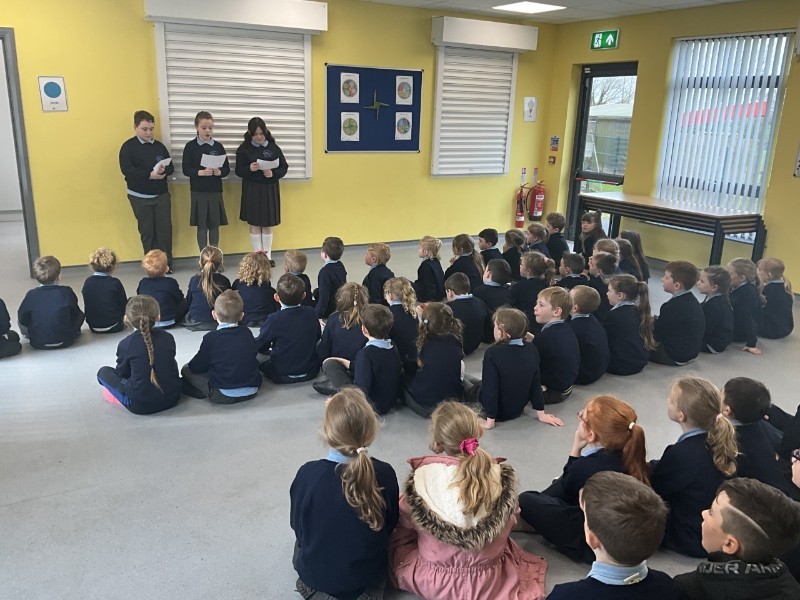 Upcoming Events...
Wednesday, 29th March 2023
P1 Shared Education Trip to Sheepsbridge
Thursday, 30th March 2023
P6/7 Shared Education trip to W5
Thursday, 6th April 2023
Half Day beginning Easter Holidays (11am finish)
Parent Group
Bingo
The Parent Support Group will be holding the rescheduled Christmas Bingo on Sunday 5th March at 4pm. The cost will be £10 full book and £5 half book. Raffle tickets will be available at £1 each.
If anyone would like to donate or sponsor a prize for the bingo or for the raffle, please contact the
school or the Parent Support Group.

Thank you again to the Parent Support Group and the Regeneration Group for all the wonderful
work that they do in our community!
St John's Eglish Primary School and Apple Blossom Playgroup, 57 Eglish Road, Portadown, Craigavon, County Armagh BT62 1NL Phone: 028 3885 1743